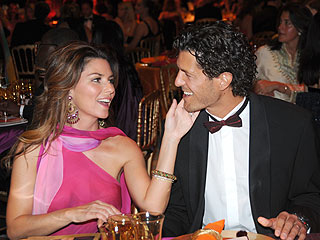 Shania Twain & Frederic Thiébaud at the Swiss Red Cross Ball
Shania Twain has gotten hitched!
The country superstar and Frédéric Thiébaud got married in Puerto Rico on New Year's Day, her rep.
"They were married at sunset in Rincon, Puerto Rico, in front of 40 of their closest family and friends," says the rep.
The couple, who confirmed their engagement last month, became romantically involved in 2009, finding solace with each other after their spouses allegedly had an affair, breaking up both marriages.
In a letter to fans she posted on her Web site in December, Twain wrote, "In the last two and a half years of adjusting to life after separation and divorce, I needed to lean on others more often than I was accustomed to. These people have been gifts, and I am fortunate to have so many of these beautiful people – friends, family and beloved fans, [whose] support I cherish more deeply with each day that passes."
"Talking about love," she continued, "I am excited to share some personal news with you; I'm in love! Frédéric Nicolas Thiébaud has been a true gift to me as a compassionate, understanding friend and over time, an amazing love has blossomed from this precious friendship."
See what other readers have to say about this story – or leave a comment of your own