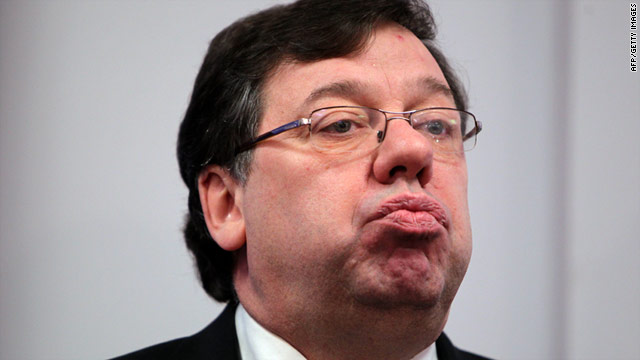 (CNN) -- Embattled Irish Prime Minister Brian Cowen announced Saturday that he will step down as leader of the Fianna Fail political party but stay on as prime minister until the March 11 elections.
Cowen, who recently called for the elections following the resignation of six government ministers in less than 24 hours, said he will concentrate on governing the country while the party comes up with a new leadership candidate.
"The focus should be on what policies the political parties are offering rather than the narrow focus of personality politics," he said at a news conference in Dublin.
Cowen cited internal criticism of his leadership as a factor in stepping down as ruling party leader.
"My attention now is to concentrate fully on government business and continue to implement the recovery plan," he said.
"We must cast off the shroud of negativity."
Cowen survived a vote of confidence from his own party members this week, but top rebel Micheal Martin, the foreign minister, opposed him and resigned Tuesday.
Four more ministers resigned Wednesday night, and another quit Thursday, shortly before Cowen addressed the Irish legislature.
His government has been under pressure since applying for an international financial bailout last year, after insisting it did not need one.
As he called for new elections, Cowen said he "deeply" regrets "that people are suffering and experiencing immense hardship because of this recession."
But, he said: "Our budgetary strategy has helped to stabilize our economy, and return it to economic growth."
Wednesday's resignations included Minister for Health Mary Harney, Minister for Justice Dermot Ahern, Minister for Transport Noel Dempsey and Minister for Defence Tony Killeen.
Minister for Enterprise, Trade and Innovation Batt O'Keeffe quit on Thursday.
Cowen announced replacements for all of them on Thursday: Mary Coughlan at Health, Pat Carey at Transport, Brendan Smith for Justice, Mary Hanafin for Enterprise and Eamon O'Cuiv for Defence.
Cowen took over the foreign minister's portfolio himself.
He has become a lightning rod of controversy, largely for his leadership in the economic crisis the country is facing.
Ireland accepted an 85 billion euro (U.S. $113 billion) bailout package last month from the European Union, International Monetary Fund and individual European nations.
Cowen requested the loan in November after days of claiming Ireland did not need help.
The government went deep into debt to bail out the country's banks during the financial crisis.
The goal of the aid, his Fianna Fail party said, was to return the nation's economy to sustainable growth and restore the health of its banking system.
A related four-year government austerity plan achieves savings through welfare cuts worth 10 billion euros ($13.2 billion) and higher taxes, expected to bring in 5 billion ($6.6 billion).
Ireland also unveiled a tough new budget, changing the income tax system, raising taxes on gasoline and diesel fuel, and reducing benefits for parents.
Dublin is cutting 6 billion euros (nearly $8 billion) from its budget as it tries to claw its way out of massive debt.